Mobile Tyre Repairs
Did you know that about 90% of all flat tyres that have been caused by a nail or screw can be repaired safely and cheaply without the need for a replacement tyre?
Saving a punctured tyre all depends on how you act when the puncture first happens. A common mistake a customers makes is they carry on driving on the tyre while the pressure is low on pressure. Driving on a tyre that has very little pressure will cause the sidewall of the tyre to heat up excessively causing irreversible sidewall damage. This is what ultimately causes a blowout.
We carry out mobile tyre puncture repairs in accordance with BSAUl59 regulations. A few factors will determine if your tyre can be repaired
Tread depth - A tyre's legal limit is 1.6mm. We will only repair a tyre that has a tread depth of 3mm and above.
The position of the puncture - A puncture that is too close to the sidewall can not be repaired
Sidewall damage - Any damage to the outside or the inside of the tyre will deem the tyre unrepairable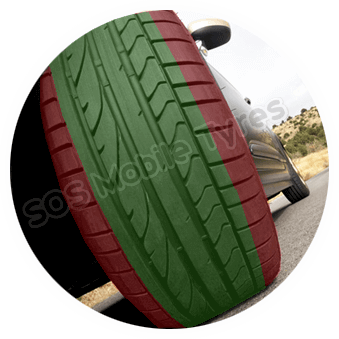 Green Area
Punctures that are in the main tread, and are within the green area CAN be repaired
Red Area
Punctures that are too close to the edge and that in the sidewall and are in the red area can NOT be repaired
We cover a huge area and can carry out tyre repairs in Reading, Basingstoke, Guildford and all the surrounding areas
In the case that your tyre cannot be repaired we have a huge range of tyres for you to choose from. We will discuss this when you make your appointment and bring a tyre just in case.